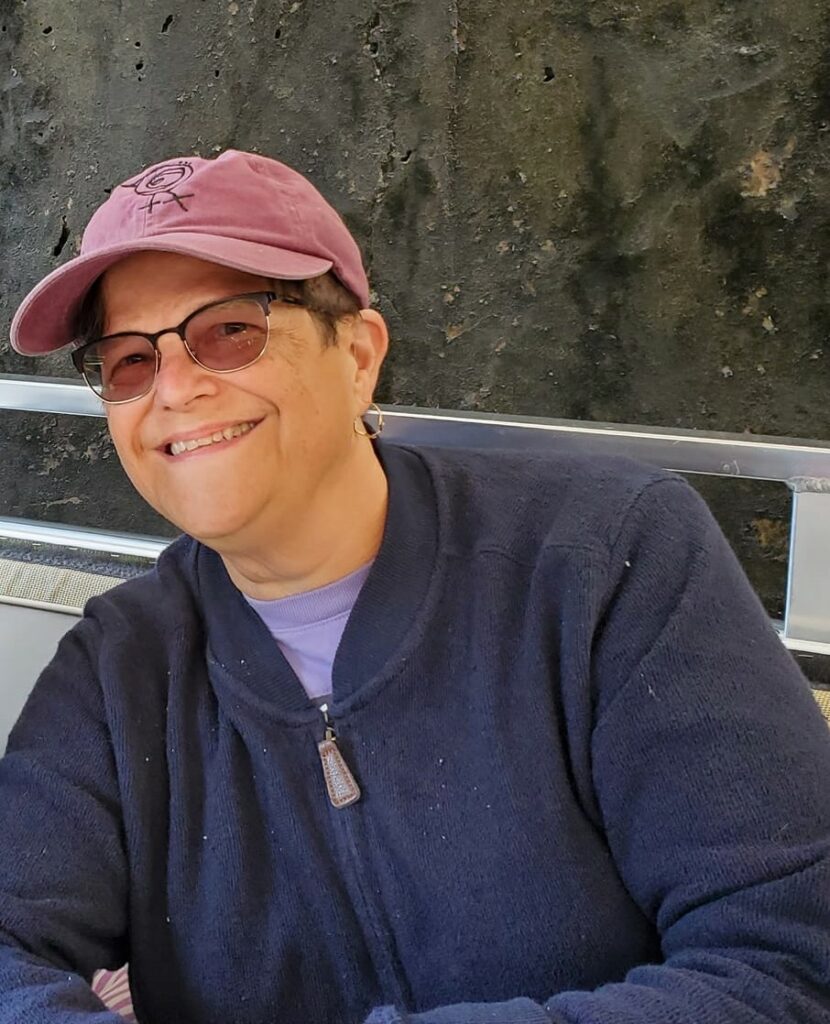 I am a sixty-seven-year-old woman, a mother to three grown children. I have been married for 42 years and most of that time, I worked as a registered nurse in either the emergency department or taught nursing. Thirty-four years to be exact.
I had worked for 34 years in the health industry.
My career ended prematurely when, just days before Christmas, I sustained a brain injury. I was 62 then. December 22, 2016. I often say that it sounds cartoonish when I tell the story, but what resulted was not a laughing matter. It completely changed my life.
I am vertically challenged, just reaching 5 feet tall, so I ask for help at the grocery store when something is beyond my reach. That day, three sleeps before Christmas Day, there was no one around to ask. No one was in sight, and so I decided to get the can myself. It was up on the top shelf, way up and out of reach. My fingers touched it, stretching, reaching. Just about there! I had managed to get ahold of the can, and by myself at that. Unfortunately, the can next to it fell from its perch on the top shelf. Before the can reached the ground, it hit me in the face.
The falling can had hit me on the bridge of my nose, directly and painfully I might add. What happened next was just like in the cartoons. I saw stars. Stars encircled me and interrupted my vision, but this was no cartoon – this was my reality. All I could think about was getting home, so home I went.
I have very little recollection of the first six months after my injury. My journey with post-concussive syndrome (PCS) was just beginning.
There are infographics and charts listing symptoms of PCS in categories of cognitive, mood, sensory, and blood dysregulation. I experience 17 of the 25 symptoms given. I had three months of speech therapy and four months of physical therapy. Later, I also went on to have a few months of occupational therapy.
I had no insight into the symptoms I was experiencing, but at times, I would have the awareness that my emotions were totally out of control. I would become irrationally angry over the slightest thing, or sob and sob for no apparent reason. These outbursts scared my family, and as I became more aware of them, they scared me too.
I was extremely fortunate to have an exceptional psychiatric nurse practitioner who did a lot of research into brain injury and post concussive symptoms. She found some overlapping information in literature about PBA and stroke survivors. This led to her diagnosis of PBA.
She was also the one who found a medication that treats PBA. I reluctantly agreed to try it. What if the medication was effective? What if it did work? What would I do when the samples ran out? Of all of the questions I had circling through my mind, I only had one answer and it repeated itself often. What if these things did happen? Then I would have found a medication to help me actually have some control over my symptoms and therefore my life, relationships, and renew my sense of purpose. All of that would happen and I would not be able to afford to continue the medication.
I didn't just have a brain injury or post-concussive syndrome. I had both. And I had Pseudobulbar Affect or PBA.
I was apprehensive, and rightly so, but I had to try. This was not a battle I could fight alone. Within days of taking Nuedexta, my mood began to smooth out. I had a coupon my nurse practitioner had given me for a discount on the drug, reducing the cost to $30/month. I was elated! However, the following month when I returned to refill my prescription, the pharmacy tech told me that the co-pay was $750! I was shocked. My newfound hope had already begun to dimmer by the time I got home.
I stopped the drug and within a week was back to square one.
As I said earlier, Laura is an exceptional nurse practitioner and so, she went back to researching options, existing medical information, and she found a solution by prescribing the two components of Nuedexta separately. Today, I have the medication filled at a compounding pharmacy, and I truly believe I wouldn't be here today without that medication.
When I was off the emotional rollercoaster, I began to learn more ways to manage my PBA. I try to stop activities when I recognize I'm becoming overwhelmed. My husband helps by physically removing me from situations where I begin to lose control. I use a meditation app on my phone. I try to walk at least around the block every day (not always successfully, but I try). I've found that naps are a necessity when I become overwhelmed even in a good way. Some triggers I need to avoid are bright lights, crowded and noisy situations, and people talking simultaneously.
There are times I miss the person I used to be. It's hard work, this new life.
Did you know that women are more likely than men to develop post concussive syndrome (PCS)? They are also more likely to have their symptoms dismissed. Even my otherwise remarkable and caring neurologist dismissed the diagnosis of PBA.
I wish providers knew about PBA, especially family practice physicians and interns who are often the first people we encounter in our journey. They need far more information about treatment of concussion and post concussive symptoms in general. More specifically, they also need to be educated on Pseudobulbar Affect (PBA).
My advice to those suffering from PBA:
Find an advocate who can help you navigate the maze of health care and insurance. My husband spoke for me during all my office visits when I was unable to articulate what was happening to me. Perhaps it is someone from your spiritual community, a neighbor or a good friend.
Interview your providers. Take information about PBA to your appointments. Have a prepared list of questions. If they are willing to learn about PBA, great! If not, move one to someone else. Take your advocate with you. Be persistent.
Your insurance company should have a person who can help you find providers in-network. Again, be persistent.
If you don't have insurance, look for a community health organization that can offer advice.
Look for a clinic that specializes in treatment of concussion.
See if there is a brain injury group near you. The Grays Harbor Brain Injury Alliance was a major support. I no longer felt alone. It was a safe place to ask questions and learn how others experienced symptoms and where and how they found treatment. https://www.biausa.org/public-affairs/media/virtual-support-groups is how I found my support group.
I was very fortunate to have good insurance and a phenomenal team of health care providers. I was also fortunate to have friends and family who helped me when I couldn't help myself. They saved my sanity and my life. I cannot thank them enough.